QueenCityOpera.orgTo make a tax-deductible donation: Director and Conductor: Isaac Selya Stage D. Netrebko stars as the beautiful blind girl who experiences love for the first time in Iolanta, while Nadja Michael is the unwitting victim of the diabolical Bluebeard, played by Mikhail Petrenko. Both operas are directed by Mariusz Trelinski, who was inspired by classic noir films of the 1940s.
HOT IOLANTA,
OR LOVE REALLY IS BLIND
A glorious 126-year-old discovery just happened again. First performed at Saint Petersburg's Mariinsky Theater in 1892 (on a double-bill with The Nutcracker), the one-act Iolanta is the last of eleven operas written by the great Peter Ilyich Tchaikovsky. Running for only one more weekend, this 85-minute Slavic gem, performed in Russian with English supertitles, is impeccably restored for Chicago Opera Theater by stage director Paul Curran and noted conductor and C.O.T. music director Lidiya Yankovskaya. Gracing Chicago's Art Moderne-style Studebaker Theater, Iolanta is a gift to anyone who hears it.
Based on a Danish play that confers fairy-tale make-believe on the life of medieval duchess Yolande de Bar (here altered to "Iolanta"), the libretto was written by the composer's brother Modest (who was also gay). Steeped in fin de siècle romanticism, this parable/love story spins an enchanting but tersely tight tale that recounts the fanciful fate of a blind princess who must discover a wondrous world shrouded from birth.
Overly protected by her father King René (magisterial Mikhail Svetlov), Iolanta (lovely and lyrical Katherine Weber) is forbidden to know that she is either blind or royal. The sovereign has confined his daughter to a secret garden where her ladies in waiting (given an enthrallingly lyrical chorus) delight and distract Iolanta with offerings of spring flowers. It's not just that Iolanta cannot see: She doesn't know that she is meant to see. For her, the only purpose for eyes is to make tears.
But what you don't know can harm you. And love, as it must, will find a way — as will medicine. Iolanta's desperate dad employs the famous Moorish physician Ibn-Hakia (Bill McMurray) to make Iolanta see. But this "seer" stipulates that the young lady must want the gift of vision: Her cure must be the courage to change her life by accepting sight. Only the most compelling cause will work that wonder.
King René remains afraid that learning of her blindness will plunge his daughter into even deeper darkness. Hope can't happen if it's only to be crushed. Complicating matters is the fateful arrival of Duke Robert (Christopher Magiera), betrothed to Iolanta since birth. Alas, Robert, now rapturously in love with the unseen maiden Matilda, wants to cancel the engagement.
But Robert's Burgundian friend Count Vaudémont (ardent tenor John Irvin) is free to love. His sudden and irresistible passion for Iolanta, coupled with her desire to literally see the light, will yield its own well-wrought miracle. As that happy ending transpires and transfigures, Tchaikovsky gives the chorus and principals a radiant anthem of consummate beauty and ravishing delight.
The magic of this scenario is that Iolanta cannot fall in love "at first sight" with Vaudémont — but, yes, first sound, touch, and kiss are extremely persuasive. Equally powerful, this knight's devotion to his inamorata quite literally doesn't need to be seen to be believed. Their mutual merit works overtime to earn the opera's redemptive, rejoicing resolution.
Along the way we're treated to some very magic music: Iolanta's ecstatic realization of the greater reality around her; Ibn-Hakia's mystical description of the universe's fusion of spirit and flesh; Robert's hymn to his adored Matilda; the chorus's paeans to spring and sightedness, and the achingly perfect duet that incarnates Iolanta and Vaudémont's newborn romance.
Just as he was about to lose it all and however much he doubted his genius, in 1892 Tchaikovsky was clearly at the height of his powers. His final gift to the world is a treasure to nurture and astonish. Chicago Opera Theater's near-flawless staging honors that legacy in every note.
For a work that exalts the joys of light, the right look is essential: Alan E. Muraoka's fluid set pieces get painted and repainted in filigreed Beaux Arts designs worthy of Robert Morris by lighting and projections designer Driscoll Otto: Iolanta's amazement at the power of brightness and color could not be more rhapsodically conveyed. (The one misfire is the production's choice of unexotic and leveling Depression-era costumes. Flattening the fantasies, the garb also undermines the medieval rankings in Tchaikovsky's source.)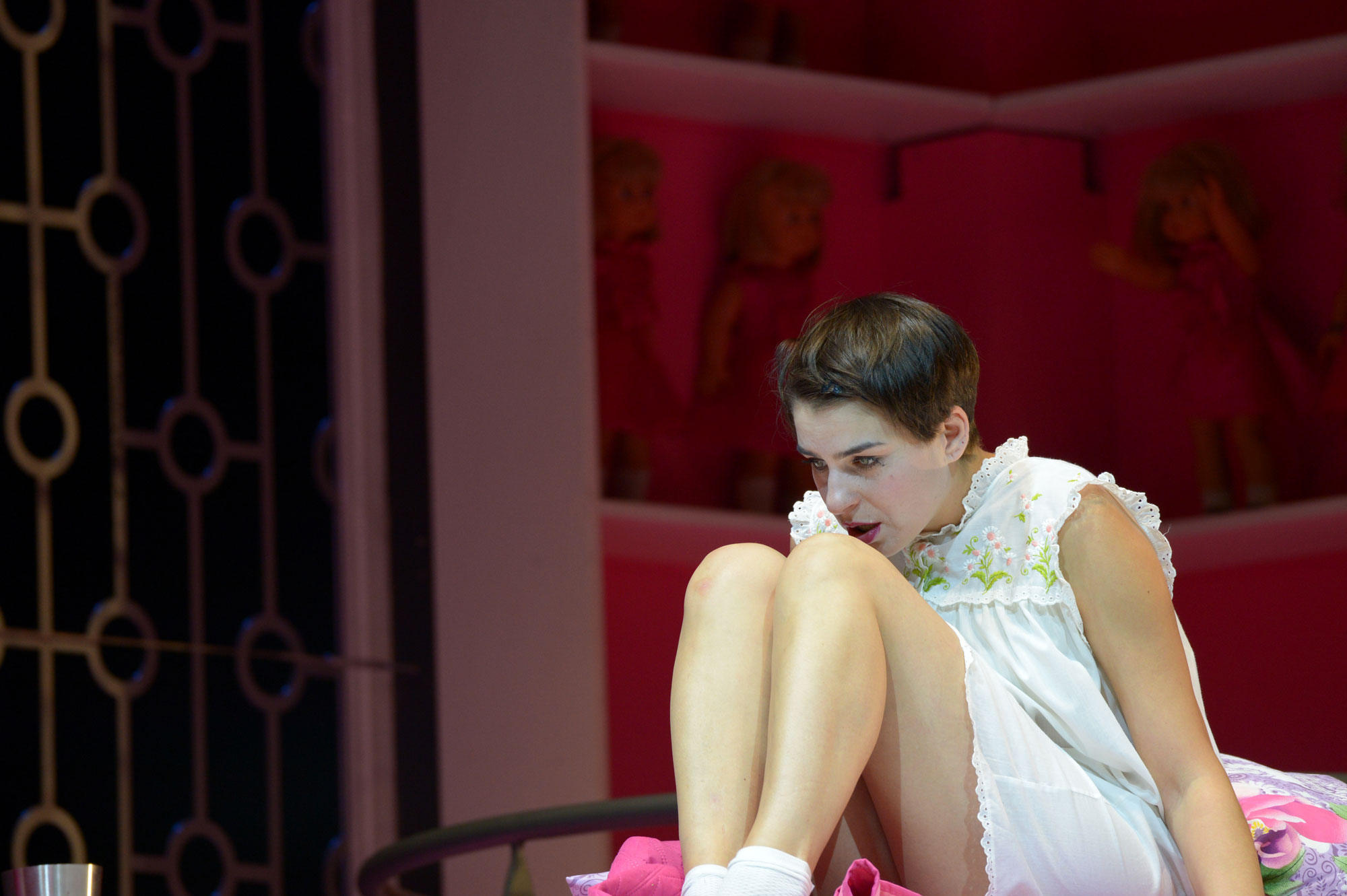 C.O.T.'s prize production splendidly confirms a great composer's final bloom, as well as the non-negotiable talent of everyone on the Studebaker stage. What a marvelous achievement is this blast from the past!
photos by Michael Brosilow
Iolanta
Chicago Opera Theater
Studebaker Theater, 410 S. Michigan Ave.
ends on November 18, 2018
for tickets, call 312.704.8414 or visit COT
for more shows, visit Theatre in Chicago
This the second instalment in our series of double bill programme, staged every other year with the aim of further expanding our repertory. This is also the second in our Russian opera series. Based on the Hans Christian ANDERSEN fairy tale, Le Rossignol is a fantasy opera by Igor STRAVINSKY, known for The Firebird, Petrouchka and The Rite of Spring. Iolanta is the final opera composed by Pyotr TCHAIKOVSKY. This one-act opera was written to be performed with The Nutcracker. Telling a poetic story of a blind girl who has her eyes opened to love and hope, the work is a true treasure from TCHAIKOVSKY's final years. This double bill is of short romantic works that use allegorical stories based on fairy tales and legends to portray the interaction between innocent characters and lost hearts, all set to lyrical music.
Iolanthe Plot
The production will be directed by the multiple-award-winning set designer and director Yannis KOKKOS, who has worked at the best houses in the world. Conducting will be TAKASEKI Ken, who has a great reputation for 20th-century's music.
*Please note that we will present this new production as a new normal style version; respecting social distance and other COVID-19 prevention measures.
*Cast changes may be required depend on the Japanese government's travelling restrictions from overseas.

[Covid-19] Our Prevention Plan and Request to Our Patrons

The performances will be taking place based on the policies of the Japanese government and the Tokyo Metropolitan government, along with the guideline for the prevention of the spread of COVID-19 infection by the Association of Public Theatres and Halls in Japan.
Iolanta Opera Synopsis
Please readthis page before visiting the theatre.